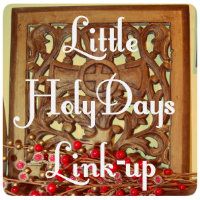 .... before Christmas and all through this house every creature is stirring but hopefully no mouse.
Today is a busy day, this should be posting while I'm at Mass this morning and then hopefully I'll get some time in the Blessed Sacrament Chapel because I do need my time with Jesus before I get sucked into this day of hustle and bustle.
I have a lot to accomplish before leaving for Vigil Mass and then dinner after I return. Yea tomorrow is Christmas!!!!
I have bread to make, it may be just my sister and I in this apartment but I also need to make bread for my grandmother and mother who are our neighbours (no we didn't go very far, but hey it's family land a.k.a free), my cousin and my uncle who while doesn't live there most certainly eats there. I love making bread so I don't mind, I just need to make sure my timing is right.
I have a load or two of laundry that I want to get done, floors to sweep and mop. The dreaded bathroom to clean. Gifts to wrap including a gift for exchange after Vigil Mass, a tree to decorate (he may be small but it does take time), the star goes on at midnight. Christmas meal prep to do, I like to get cheese grated, carrots diced, grated, julienned, whatever in advance so that I am not stuck in the kitchen the whole day while everyone else is about enjoying the day. Our kitchen opens right into our living room but you still miss out when you're stuck doing stuff. If you guessed by all of this that my sister doesn't cook you would be correct, she does make great rice though so I should give her some props.
I finally got a Last Supper picture that I need to put up. We are limited in wall space and I already have a Sacred Heart and Immaculate Heart up so we don't have much space for a large Last Supper and somehow they tend to come large, beautiful but
LARGE
. I finally found a small one that I can work with, a little smaller than I really wanted but it works.
Bake my cake, I do not have my grandmother's recipe for blackcake so last year I came up with my own fruit pound (pound fruit cake??) it was a hit so I am making it again this year with a few slight moderations (I did not write down measurements last year but I do have close approximates (with the bought ingredients I was able to make the cake for both Christmas and New Year's, yes it was that good). My grandmother has a very unscientific method for testing that cake batter has the right proportion of liquid and dry ingredients she has never been wrong yet, here's hoping it works for me.
Finally I have to sit back enjoy my tree, my twinkling lights, the neighbours' twinkling lights, try to beat my cousins in sending out the Merry Christmas text (they are 17, 18 and 19, it's a fight I have lost since they first got cell phones). Have a glass of sorrel, a slice of my grandmother's black cake and wish Jesus a Happy Birthday.
O and track Santa on that website, somehow he always gets to Point Fortin which is way south of the island but no where else in the country.
M

E

R

R

Y

C

H

R

I

S

T

M

A

S

T

O

A

L

L

A

N

D

T

O

A

L

L

A

G

O

O

D

N

I

G

H

T
source