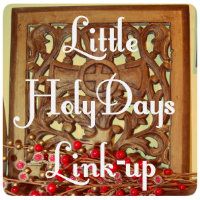 Our Christmas tree is a mighty tree, all 2 feet of him. Last year my sister and I moved into our new place on Christmas Adam (the day before Christmas Eve) so we had no Christmas anything, work was still being done on the place, the tile guy was still working at midnight on Christmas Eve. We had bought lights and a few decorations but were to tired to put anything up by the time everything was said and done.
We had one sign on our front door and our mighty little Christmas tree to bring a little Christmas cheer to our home. I don't have any pictures of last year but he was the most haphazard, happy looking thing ever by the time we had put up all his tiny little decorations.
This year he is not a stand in until we get something better, he is our Christmas tree. My sister and I discussed getting a bigger tree, I because I kinda like our little tree, her for other reasons.
As per not quite yet a tradition he will go up on Christmas Eve and he'll probably stay past Epiphany again or maybe I'll be a little more efficient next year.
A little child came to be the light and Saviour of our world and my little tree brings a whole lot of Christmas cheer to our home.