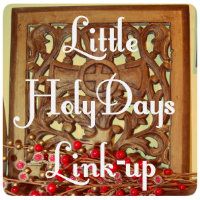 Advent is a season of hope, anticipation and preparation for Christmas. I love all the fuss that goes on around this time of the year. I look forward to what new, annoying thing that Elmo will be able to do, to see what else a toy car can accomplish and how they can re-invent some of my favourite board games.
source
I will try to accomplish it all in the kitchen, yes I have to do the turkey and all the trimming plus more. My birthday takes months of planning and I go all out with the food and preparations, so why should I do any less for Jesus.
But more than going all out, I also need to go all in. Put the same effort that you are putting into your house, decorations, menu and parties into your soul and your relationship with Jesus.
Cleaning your house from top to bottom. Do the same for your soul, get to confession this Advent. Just as you want you house to look good when guests come over why not make sure that you are looking good for the Lord.
Making plans to get together with friends this season. How about getting together with Jesus, sure you go to Mass every weekend, try going to a Daily Mass a couple times or even once. Daily Masses are shorter only half and hour and you can take one of those friends with you.
source
The radio stations run their own food and toy drives, the Salvation Army's Santa is everywhere, most checkout counters have a few donation tins lined out.. Find out what's near you, do what you can even if it's just dropping some spare change into Santa's kettle or a donation tin.
These are just a few suggestions but there is so much more that can be done, go all out and all in for this Advent and Christmas Season.