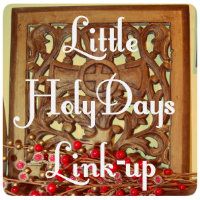 I am praying the St Andrew Christmas Novena this Advent for the first time. This Novena is unlike other Novenas, it is not prayed 9 times over 9 days. This Novena is 15 times a day from the Feast of St Andrew on November 30 every day until Christmas Eve i.e 600 times over 25 days. That's a lot.
I needed a way to keep track of how I was praying. In doing my research I saw someone suggest praying five times at each meal but I wanted to pray throughout the day. A reason to stop in all the busyness and craziness that is this of the year to intentionally pray and spend time with God. Using my rosary chaplet wouldn't work, I thought about scheduling times but that would have defeated what I wanted to achieve plus since I am on leave I go to the Blessed Sacrament Chapel after Mass and I don't think my alarms would go over well.
I thought about knots, although I still have no idea how I would have pulled that off. Finally it came to me, safety pins. I'm a little dense so I think sometimes God has to hit me over the head a few times. Everyday I sit at my desk I see the pins hanging on the grate of my desk where I keep papers. I keep some pins on my bedside table that I must have dropped a dozen times while trying to figure out a way to keep track. So I drop the pins yet again for no reason and as I pick them up I notice that they are interlocked and the light bulb went off.
I attached the string of 15 pins to the underside of my top, I usually wear a cami under all my tops so I don't have to worry much about flashing someone when I move the pins. Every time I pray the novena I move a pin over to the blue stitch marker which I also attached to the underside of my top. The pins are always on my as a consistent reminder to pray and fingers happen upon way more often than I thought it would.
The St Andrew Christmas Novena
Hail and blessed be the hour and moment at which the Son of God was born of a most pure Virgin at a stable at midnight in Bethlehem in the piercing cold. At that hour vouchsafe, I beseech Thee, to hear my prayers and grant my desires. (Mention your intentions here) Through Jesus Christ and His most Blessed Mother.