The Church year guides us into inexhaustible mysteries. External riches are opened up to us and "in some way made present for all time." We "lay hold of them and are filled with saving grace"
(Vatican II, Constitution on the Sacred Liturgy, 102).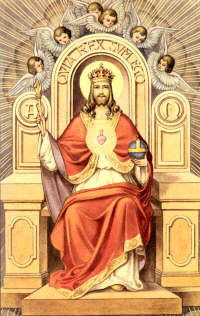 Today the Last Sunday of the Liturgical Year, the Feast of Christ the King. The Feast of Christ the king is relatively new since it was only established in 1925 by Pope Pius XI. The feast is intended to proclaim in a striking and effective manner Christ's royalty over individuals, families, society, governments, and nations.
At the Crucifixion Pilate proclaimed Jesus King of the Jews by having the words affixed to His Cross. We see it today whenever we look at a Crucifix, INRI,
Iēsus Nazarēnus, Rēx Iūdaeōrum,
Jesus the Nazarene, King of the Jews. Pilate, a pagan ruler who had no use for Jews or Christians was able to proclaim Jesus as King. Do we?
Does Christ reign in our heart?
"For where your treasure us, there your heart will be also."
Matt 6:21
Does Christ reign in our mind?
"Do not be conformed to this world, but be transformed by the renewing of your minds, so that you may discern what is the will of God."
Rom 12:2
Does Christ reign in our wills?
"Anyone who resolves to do the will of God will know weather the teaching is from God or whether I am speaking on my own"
John 7:17
Does Christ reign in our bodies?
"Now you are the body of Christ and individually members of it."
1 Car 12:27
So Pilate said to him, "Then you are a king?" Jesus answered, "You say I am a king. For this I was born and for this I came into the world,to testify to the truth (John 18:37).